Support Staff
Karen Pallister
Role
Executive assistant
Email
General Information
I have lived in Clevedon for most of my life, attending Clevedon School myself. I have 3 boys who also attended Clevedon School from 2002 when my eldest first started as a new entrant and then twin boys who started in 2005, who are now all grown up.
I have worked at the school for many and have enjoyed meeting all the new families and feel fortunate that I can be part of this very busy bubbly school.
Donna Woods
Role
Receptionist
Email
General Information
I feel very lucky to be part of the Clevedon School team. I have worked in schools for the last 20+ years in a variety or roles and am really enjoying my new role at Clevedon School.
I have a wonderful family and a little granddaughter which I am very grateful for.
Andrea Hewes
Role
Office administrator
Email
General Information
I am very happy to be working at your beautiful Clevedon School and am very excited to meet all the families and children.
I have previously worked in a school, but for the past five years was with Air New Zealand as an international flight attendant. I also have two grown up sons.
Brigid Higgins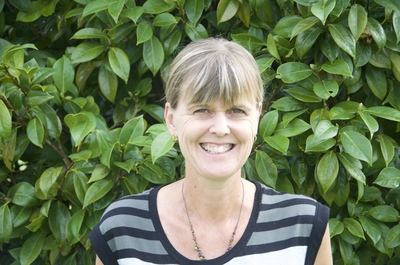 Role
Teacher aide
Email
General Information
I have been involved with Clevedon School since 2002, when the eldest of my three children started as a New Entrant.
My family and I live on a farm in the area and love the unique Clevedon countryside, community and lifestyle.
I was delighted to join the school team in 2011 as a Teacher Aide. It is a pleasure to be involved with the children and to help support them with their education.
Trevor Sai-Louie
Role
Teacher aide
Email
Fran Chapman
Role
Teacher aide